Hot Water Softeners
Johnson Hot Water Softeners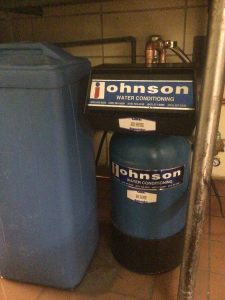 Are you looking to provide your dining customers with spotless flatware and silverware?
Are you tired of having to de-lime your dish machine?
Would you like to cut the cost of you detergent?
The Johnson Hot water softener for your commercial dish machine provides you with high quality water to help you maintain a crisp and spotless dinnerware without the intense manual labor. This system removes calcium and magnesium minerals from your water supply to reduce the occurrence of unsightly spots on your dishes, glasses, and flatware. This "softened" water reduces scale buildup and allows dish detergents to work more efficiently, reducing excess chemical consumption to maximize your profits.
An extremely convenient addition to your dishwashing station, the Johnson hot water softener features 12 day timer-controlled regeneration that allows the system to clean and regenerate automatically without daily monitoring or interruption of service.
This system is designed to be installed before the booster heater.
Resin Tank:
FRP vinylester resin mineral tanks for hot water operation. Maximum Operating Temperature = 65°C (150°F) Tanks are corrosion resistant and are tested and certified by WQA to NSF/ANSI Standard 44 for materials and structural integrity requirements.
Brine Tank:
Constructed of rugged seamless one piece molded polyethylene. They are lightweight yet strong enough not to crack or leak.
Softening Resin:
High quality Purolite softening resin.
Control Valve:
This softener uses the Fleck 2750 brass
valve in a calendar clock initiated regeneration
A three ball valve bypass is installed n the system as a safety shut off feature.