Water Conditioning and Water Softening in Lombard, IL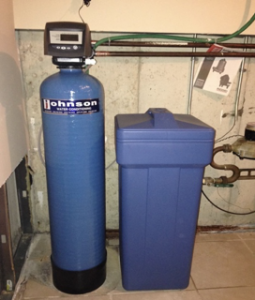 Founded in the 1830s, Lombard, Illinois is a mid-sized town located northwest of Chicago. Located aside the DuPage River, the town is characterized by its ample rural areas as well as its historic buildings.
If you're in need of water conditioning services in Lombard, there's only one company you should call: Johnson Water Conditioning. In business since 1936, we have installed, repaired, and maintained countless water conditioning systems throughout the Lombard area.
One of the big issues that Lombard has with its water is that it's filled with hard water minerals—calcium and magnesium. As such, the water in the town is exceedingly hard. Fortunately, Lombard residents can do away with hard water minerals by making use of water softeners.
If you're looking to soften your water with the use of a water softener in Lombard, Johnson Water Conditioning is the company to call. Staffed with a team of skilled and experienced water purification specialists, we have installed countless water softeners throughout the Lombard area.
When it comes to operating restaurants, commercial dishwashers are near necessities. Unfortunately, these appliances are not without their flaws. One of the biggest problems with commercial dishwashers is that they're prone to limescale buildup. Fortunately, there is a way to do away with this build-up: utilize a hot water softener.
Should you ever require the use of a hot water softener in Lombard, we here at Johnson can help you. We manufacture hot water softeners to accommodate a range of commercial dishwashers. Our team looks forward to assisting you!
if you're looking to improve the quality of your drinking water, a reverse osmosis system is just the thing you need. These systems are designed to remove the majority of minerals, chemicals, and bacteria from water. In doing so, they produce a form of water that is smooth, clean, and refreshing.
Johnson manufactures reverse osmosis systems of all sizes, and is capable of accommodating any sized water supply. Regardless of your needs, our team of seasoned purification experts can provide you with a steady stream highly drinkable water.
If you get your water from a well, you might consider using a chemical injection system. These systems work to remove iron, manganese, sulfur, and bacteria from water, providing it with a clean smell and a refreshing taste, and ridding it of its staining capabilities.
Johnson manufactures chemical injection systems of two kinds: chlorine injection systems and hydrogen peroxide injection systems. For more information on these systems, give us a call today.
If you are looking for a non-chemical method of filtering iron, manganese, and sulfur from your water supply, you should consider an iron filtration system. These popular systems are used in tandem with well water supplies all over the Lombard area, and they are highly effective.
We at Johnson Water Conditioning manufacture only the best in iron filtration systems, and we are capable of accommodating a wide range of water supplies. Regardless of the size of your water supply, our team can help you.
If it is water conditioning in Lombard that you seek, Johnson Water Conditioning is the company to call. In business for over 80 years, we know everything there is to know about water purification.
It doesn't matter whether you're in need of installation, maintenance, or repair, our team of dedicated specialists is prepared to help you. Contact us today at (630) 832-9393 to utilize our services or to ask any questions!