Carpentersville, IL Water Conditioning and Water Softening Services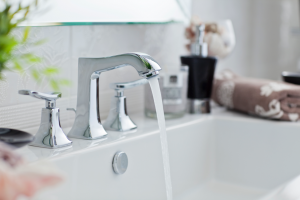 Located in Kane County, Carpentersville, Illinois is a village consisting of approximately 38,000 residents. Positioned along the Fox River, it's characterized, in part, by its number of dams, creeks, and nature preserves.
If you're in need of water conditioning and water softening in Carpentersville, Illinois, Johnson Water Conditioning is the company to call. In business for over 80 years, we have helped countless Carpentersville residents to install, repair, and maintain water conditioning systems.
Water Softening
Unfortunately for its residents, Carpentersville exists in a part of the United States where calcium and magnesium are rampant. As such, Carpentersville residents are forced to deal with exceedingly hard water. This has a number of negative effects, as calcium and magnesium not only wreak havoc on pipes and appliances, but also do a poor job of producing soap suds.
Fortunately, there is something you can do to remove calcium and magnesium from your water: you can use a water softener in your home. If you're looking for a water softener in Carpentersville, Johnson Water Conditioning can help. Contact us today!
Hot Water Softening
Perhaps you own a restaurant? If so, you probably make use of commercial dishwasher, which could benefit greatly by installing a hot water softener. Hot water softeners are specifically designed to work in tandem with commercial dishwashers, allowing them to run more efficiently, and eliminating limescale buildup within them.
Johnson has installed hot water softeners in countless restaurants throughout the Carpentersville area. If you're in need of a hot water softener, we are the company to call.
Reverse Osmosis
There are a number of contaminants floating around within water. While most of these contaminants are safe to consume, they still have an effect on the taste and overall quality of the water.
Fortunately, there is a way to remove these contaminants from water, improving its quality and taste. All you need is a reverse osmosis system. Contact us today to discuss your reverse osmosis needs!
Chemical Injection
There's nothing wrong with getting your water from a well, provided that you condition it in the proper manner. After all, well water is filled with a number of contaminants that you won't find in city water, including iron, manganese, sulfur, and potentially even coliform bacteria.
If these contaminants aren't removed, they can severely affect the taste and quality of the water. In fact, they can even cause water to possess staining capabilities.
Fortunately, there's a simple way to eliminate these minerals from a water supply: a chemical injection system. We here at Johnson manufacture both chlorine and hydrogen peroxide injection systems. Call us today to discuss the best option for your home!
Iron Filtration
A chemical injection system isn't the only conditioning system that can remove iron and manganese from a well water supply. An iron filtration system can as well.
Iron filtration systems differ from chemical injection systems in that they perform their function without the use of chemicals. Instead, they filter out the above-reviewed minerals as they pass through, separating them from the water supply.
If you're looking for an iron filtration system in Carpentersville, Johnson is the company to call. We've installed these systems in countless homes throughout the Carpentersville area and we would be happy to make yours the next!
Take Advantage of Johnson's Carpentersville Water Conditioning Services
If you ever need water conditioning services in Carpentersville, Illinois, Johnson Water Conditioning has you covered. Featuring a team of skilled and experienced purification specialists, we've installed, repaired, and maintained countless water conditioning systems throughout Carpentersville and its surrounding areas.
Our team is ready to assist you. Contact us at (630) 832-9393 to make use of our services!