Itasca, IL Water Conditioning and Water Softening Services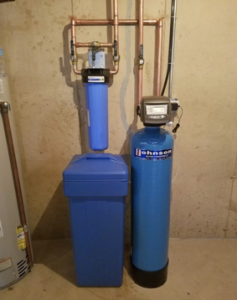 Located about 25 miles Northwest of Chicago, Itasca, Illinois is a small village with a great deal of history behind it. Established in 1843, it is characterized by its old buildings, its picturesque landscapes, and its quaint charm.
When it comes to water conditioning services in Itasca, Johnson Water Conditioning reigns supreme. Offering water conditioning installation, repair, and maintenance, we've helped countless Itasca residence to manage their water supplies.
The water in Itasca contains excess amounts of calcium and magnesium. As such, the village has some of the hardest water in the United States. Fortunately, there is a way to soften hard water in Itasca: you can install a water softener.
As far as water softening in Itasca goes, Johnson Water Conditioning is as experienced and as reliable as they come. Featuring a team of skilled and seasoned water softening specialists, we have helped provide soft water to countless residents throughout Itasca and its surrounding areas. Contact us today!
If you manage a restaurant, you likely make use of a commercial dishwasher. Unfortunately, due to the hard water in Itasca, commercial dishwashers in the area are prone to a number of functional problems. Fortunately, with the use of a hot water softener, you can combat these problems quite easily.
If you're looking to use a hot water softener in Itasca, we here at Johnson are the people to see. We manufacture hot water softeners to work in tandem with commercial dishwashers of all sizes. Regardless of the size of your dishwasher, we have a hot water softening system that can accommodate your needs.
When pulled up from the ground, Itasca water is filled with a variety of minerals, chemicals, and bacteria. Together, these contaminants work to lessen the quality of water. The good thing, however, is that there's a simple solution to remove them from your water supply: a reverse osmosis system.
Reverse osmosis systems filter contaminants out of water so that it's as clean and as drinkable as technologically possible. If you're looking to benefit from a reverse osmosis system in Itasca, Illinois, Johnson Water Conditioning is the company to call
If you get your water from a well, it's likely filled with a variety of contaminants. The most common of these contaminants include bacteria, iron, manganese, and sulfur. Fortunately, there is a way to rid well water of these substances: chemical injection systems.
Johnson manufacturers both hydrogen peroxide and chlorine injection systems, each of which is capable of neutralizing the above-reviewed substances. If you're looking to purify your well water, our team has you covered.
Another option for ridding well water of sulfur, iron, and manganese is an iron filtration system. These are non-chemical systems that filter out substances as they pass through. Used in countless homes throughout the Itasca area, they work to eliminate foul smells, neutralize poor tastes, and eliminate pesky water staining.
If it's an iron filtration system you need, Johnson Water Conditioning has you covered. We manufacture iron filtration systems to accommodate water supplies of all sizes. Regardless of your water usage, our team of water filtration experts can assist you.
If you're in need of water conditioning or water softening services in the Itasca, Illinois area, Johnson Water Conditioning is the company to call. Featuring a team of highly skilled and experienced water conditioning experts, we've been satisfying customers throughout the area since 1936.
Regardless of whether you need water conditioning installation, maintenance, or repair, our team can assist you. Contact us today at (630) 832-9393 to discuss your water conditioning needs!