Reverse Osmosis Filter System in Chicagoland
High quality, great tasting drinking water at a fraction of the cost of bottle water! Clean. Delicious. Quality-controlled in your home with a reverse osmosis filter system in Chicagoland.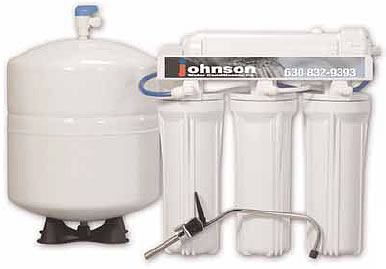 Brief Description:
Because the quality of drinking water is frequently questioned, people are now looking for alternative sources of quality water. Reverse osmosis drinking water systems provide the most convenient and economical solution.
Neatly stored under the counter or in your basement, our reverse osmosis filter system in Chicagoland provides you with clean and delicious water right from its own dedicated tap. The system can also be hooked up to your refrigerator for clean and delicious ice cubes.
All Models Include:
3/8″ outlet tubing for higher flows
Thin film composite (TFC) membranes
Quick connect fittings for easy installation and servicing
Heavy duty powder coated bracket
Stainless steel product water check valve
Automatic shut-off valve
4.0 U.S. gallon (15 liter) storage tank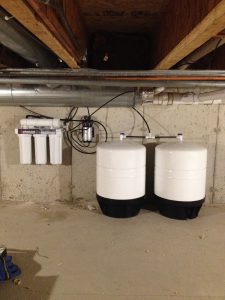 MODEL E75TFC-4 FEATURES:
Reverse osmosis membrane, nominally rated at 75 U.S. gallons per day (Nominal product water ratings are based on the following conditions: Supply TDS of 250 ppm softened tap water, 50 psi (0.36 Mpa), 77oF (25oC), pH 8 and 15% Recovery with outlet to atmosphere)
Pre-filters: 10″ five (5) micron Sediment Cartridge and 10″ Activated Carbon Cartridge
Post filter: 10″ Activated Carbon Cartridge
Non-air gap faucet
Reverse Osmosis Components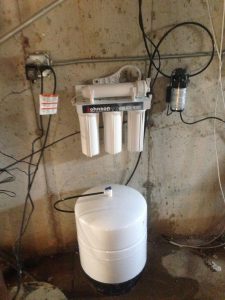 Reverse Osmosis Membrane: Allows water molecules to pass while dissolved impurities are flushed to the drain.
Five Micron Pre-Filter: Removes tiny particles of suspended dirt and sediment.
Activated Carbon Pre-Filter: Protects TFC membrane from chlorine and removes organics.
Activated Carbon Post Filter: Removes tastes and odors to give water a final "polish" prior to delivery.
Pressurized Storage Tank: Holds purified drinking and cooking water ready for use.
Chrome Plated Faucet: Mounts attractively on sink or counter to deliver pure water at the touch of a lever. Multiple faucet colors and options are available. Optional delivery.