Water Softening and Water Conditioning in East Dundee, IL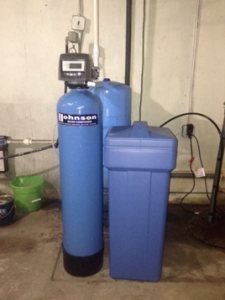 A small village located northwest of Chicago, East Dundee is home to approximately 3,000 residents. Incorporated in 1871 and located along the Fox River, it's well known for its Santa's Village Azoosment Park.
When it comes to water softening and water conditioning in East Dundee, Johnson Water Conditioning is the company to call. In business for over 80 years, we offer only the best in installation, maintenance, and repair.
Water Softeners in East Dundee
The fact of the matter is that the water in East Dundee, Illinois is hard. It's filled with a great deal of calcium and magnesium, which puts wear and tear on pipes and appliances, leaves behind limescale on sinks and faucets, and reduces the amount of suds you're able to produce when mixing soap with water.
Fortunately, there is a simple way to remove calcium and magnesium from a water supply. All you need is to install a water softener.
If you're looking for a water softener in East Dundee, Illinois, the purification experts with Johnson are the people to call. Contact us today to get the process started!
Hot Water Softeners
One of the big problems that restaurant owners encounter with their commercial dishwashers is that they do a poor job of working with hard water. This is so not only because calcium and magnesium reduce the efficiency of the machines, but because they leave behind limescale buildup over time as well.
The good thing, however, is that the water running through commercial dishwashers can be softened. This isn't done with a conventional water softener; it's done with a hot water softener instead.
Should you decide to install a hot water softener in East Dundee, Johnson has you covered. We have installed hot water softeners in a variety of restaurants throughout the area and could easily do the same in yours.
Reverse Osmosis Systems in East Dundee
Reverse osmosis systems are renowned for their ability to remove the vast majority of contaminants from water supplies. These include not only pesky minerals, but chemicals and bacteria as well. As a result, reverse osmosis systems produce some of the purest and most drinkable water in existence.
Johnson manufactures reverse osmosis systems to accommodate a wide range of water supplies. Regardless of your drinking water needs, our team can accommodate them.
Chemical Injection Systems in East Dundee
If you get your water from a well, you face a number of unique challenges. Well water isn't only filled with calcium and magnesium, but iron, manganese, sulfur, and coliform bacteria as well.
As such, well water systems require unique purification systems that can deal with these contaminants. That's why many well owners make use of chemical injection systems.
Johnson manufactures both chlorine and hydrogen peroxide injection systems, and we've installed them in countless homes throughout East Dundee. Contact our team today to discuss the best injection system for your needs.
Iron Filtration Systems in East Dundee
If you're only looking to remove iron and manganese from your well water, you should consider installing an iron filtration system. These non-chemical systems filter out iron and manganese as they pass through, effectively eliminating foul smells, foul tastes, and water staining capabilities.
Johnson has installed iron filtration systems for numerous East Dundee homeowners. Our team would be glad to work with you as well.
Utilize a Water Softening and Conditioning Company in East Dundee
If you're in need of water conditioning or water softening services in East Dundee, Illinois, the water purification specialists with Johnson Water Conditioning are the people to see. Highly skilled and experienced, we've served countless customers throughout East Dundee and its surrounding areas.
Regardless of whether you need installation, maintenance, or repair, our dedicated team can help you. Contact us today at (630) 832-9393 to discuss your needs!