Trust our Rust Control Filter System in Chicagoland
Eliminate unsightly rust stains caused by sprinkler systems, safely, simply and economically with a rust control filter system in Chicagoland.
Prevention:
RG-100 Plus is a chemical designed for the rapid sequestration of soluble iron molecules in water. RG-100 PLUS is a liquid inorganic phosphate material engineered with the latest technological advances in the thermal blending process, from which a highly stable and safe product is produced.
A Product That:


Can deal with iron levels over 10ppm
Can be adjusted for levels of hardness over 150ppm
Eliminates the need for mixing dry materials
Is NSF Standard 60 approved as an extremely safe product
Application Methods:
RG-100 Plus is used as a chemical treatment in the rust control filter system in Chicagoland based on the amount of water used in that system. A chemical metering pump is tapped into the irrigation system as close as possible to the water source. The pump is situated on a chemical tank containing RG-100 Plus and calibrated according to the table provided with the chemical.
Immediately upon treatment, the soluble iron molecules in the water will be sequestered. The iron molecules will remain in a soluble state, thus reducing their ability to oxidize and cause staining.
Removal:
RG-200 is a liquid chemical designed to safely remove rust stains from stucco, cement, patios, fences, and most other painted and concrete surfaces. This chemical may be applied with sprayer equipment brushes, rollers, or sponges, making application easy and inexpensive.
Installation of the RG-100 plus Injection System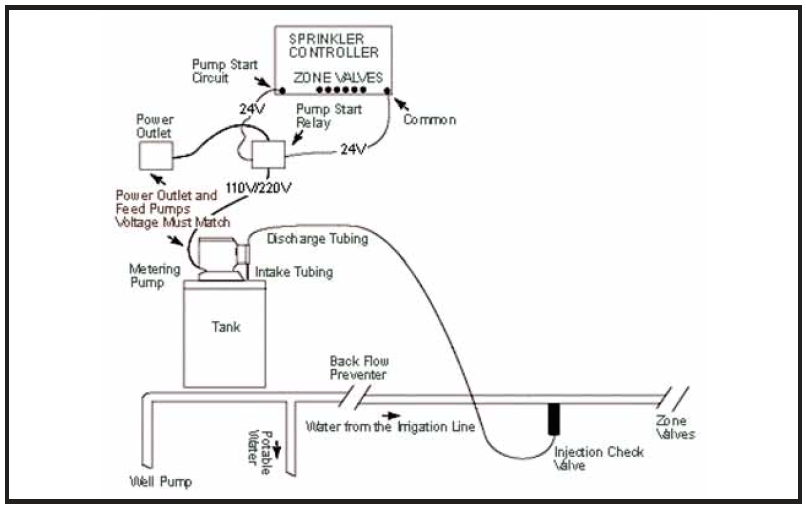 Irrigation rust stain prevention, well used for drinking water and irrigation:
The metering pump must be connected to the controller unit for the irrigation system, as discussed above.
The metering pump injection point should be downstream of the pressure tank, the "T" for the drinking water line, and the backflow preventer.