Do You Need a Water Softener in Des Plaines, IL? Here are Five Signs You Do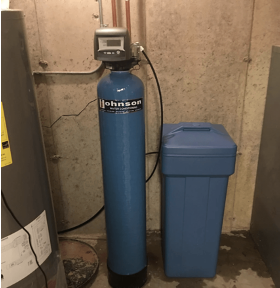 Here in Des Plaines, Illinois, our water tends to be on the hard side. Inundated with calcium and magnesium, it can cause a range of functional issues. For this reason, many Des Plaines residents decide to install water softeners in their homes.
Curious as to whether you should use a water softener in Des Plaines, Illinois? Here are five signs that it would probably be a good idea.
You Have Limescale on Your Metal Appliances
Perhaps the surest sign that you have hard water is the presence of limescale on your metal sinks and faucets. What is limescale? It's a chalky, white substance that is essentially a small pile of calcium and magnesium particles. These particles existed in water, but then were left behind on the surface after the water evaporated.
It's important to note here that limescale is not a particularly debilitating substance. Though it does impair aesthetics, it does nothing to impair functionality. That said, if it does exist, there are likely a range of other (more troubling) problems that exist as well.
You Have Dry Skin and Hair
In addition to building up on metal sinks and faucets, the calcium and magnesium in hard water also builds up on skin and hair. This is a problem because it causes both the body and hair to dry out, leading to rashes, acne, brittleness, split ends, and a variety of other issues.
Not everyone's skin and hair are affected by hard water in the same way. However, if your water is hard, you're almost sure to incur a problem or two over time. If you notice one of these problems, you may want to consider installing a water softener.
Your Water Pipes are Clogged
Another place in which calcium and magnesium build up is on the inside of water pipes. Unfortunately, this can cause reduced water pressure over time.
As calcium and magnesium build up on the insides of the pipes, they narrow them, providing less room for water to flow through. As a result, water comes out of the pipes at a much lower rate than it otherwise would.
If you want to prevent this from happening, we suggest that you install a water softener. It will remove calcium and magnesium from your water, eliminating the risk of pipe buildup.
You're Having Trouble Creating Suds
When soap and water meet, a chemical reaction occurs that leads to the creation of suds. These suds are important, as they're vital in the cleaning process.
Unfortunately, when there are excess amounts of calcium and magnesium in a water supply, they hinder the chemical reaction that creates suds. In other words, hard water makes soap suds difficult to come by.
The solution? All you have to do is install a water softener. Your local water purification company can certainly help with this.
You're Living in Des Plaines
Not every home has hard water running through its pipes. However, the vast majority of the homes in northeastern Illinois do. As such, if you're living in the Des Plaines area, there is a very good chance that you have excess amounts of calcium and magnesium in your water supply.
While the choice is certainly up to you, you would likely be well-served by installing a water softener in your home.
Looking to Install a Water Softener in Des Plaines?
Have you seen signs of hard water in your home? Looking to install a water softener in your Des Plaines home? If so, we here at Johnson Water Conditioning have you covered. We've installed water softeners in a number of homes throughout the Des Plaines area.
Contact us today to schedule an appointment!