Water Conditioning and Water Softening in West Chicago, IL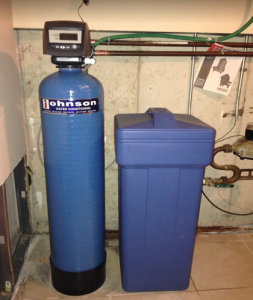 While not nearly as large as its big brother to the east, West Chicago is still fairly sizable, home to over 27,000 Chicagoland residents. Located along the first railroad lines in Illinois, it's still highly characterized by its locomotive history.
If you're looking for water softening or water conditioning services in West Chicago, Johnson Water Conditioning Company is the company to call. Featuring a team of highly skilled and experienced water purification specialists, we're well-versed in the installation, maintenance, and repair of all types of water purification systems. Utilize our water conditioning services today!
Water Softening in West Chicago
In Northeastern Illinois, it's essentially impossible to escape hard water. West Chicago is certainly no exception to this. This is why the vast majority of West Chicago residents opt to make use of water softeners.
If you're thinking about using a water softener in your West Chicago home, Johnson Water Conditioning is the company to call. We manufacture highly functional water softening systems to suit water supplies of all sizes. Our team of purification specialists can assist you with a full installation.
Hot Water Softening
Those who own restaurants need to use commercial dishwashers on a regular basis. Unfortunately, commercial dishwashers and hard water don't mix. For this reason, they require the use of hot water softeners. By utilizing a hot water softener in tandem with your commercial dishwasher, you can eliminate limescale buildup and produce the cleanest dishes imaginable.
If you're looking to install a hot water softener in West Chicago, we here at Johnson Water are the people to see. We manufacture hot water softeners to accommodate a wide range of commercial dishwashers. Regardless of your needs, we can accommodate you.
Reverse Osmosis Systems
There's nothing wrong with using soft water for drinking purposes. However, you should know that there's another conditioning system available that can make water even more pure: a reverse osmosis system.
Johnson manufactures top-notch reverse osmosis systems, helping our customers to make their water as clean and drinkable as possible. If you're looking for a continuous stream of the purest water imaginable, we're the company to see.
Chemical Injection Systems
Those who use well water as opposed to municipal water are vulnerable to harmful bacteria in their water supplies. This is just a natural byproduct of getting your water from the soil. Fortunately, there is a way to eliminate bacteria from well water: chemical injection systems.
We at Johnson manufacture both hydrogen peroxide and chlorine injection systems, and have helped countless West Chicago residents to make their water both safe and drinkable. If you're looking to remove bacteria, iron, and hydrogen sulfide from your water supply, our purification specialists are the people to see.
Iron Filtration
If you get your water from a well, there's a good chance that it contains excess levels of iron, manganese, and sulfur. Unfortunately, these substances not only produce foul smells and strange tastes, but water stains as well. The good thing, however, is that these contaminants can be easily removed. All you need is an iron filtration system.
Johnson has manufactured iron filtration systems for a great number of homeowners in the West Chicago area. Regardless of the size of your water supply, our team of skilled and experienced purification specialists can help you.
Make Use of Water Softening and Water Conditioning in West Chicago
When it comes to water softening and water conditioning services in West Chicago, there's only one company you should turn to: Johnson Water Conditioning Company. In business since, 1936, we have helped thousands upon thousands of West Chicago residents to cleanse and purify their water supplies.
Whether you need an installation, maintenance, or repair services, our team of water purification specialists can help you. Contact Johnson today by calling (630) 832-9393.