Water Softening and Water Conditioning Services in Wauconda, IL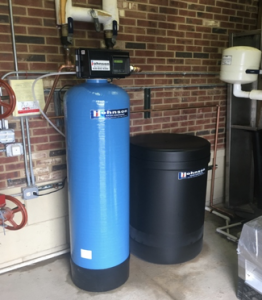 Located in Lake County, Wauconda, Illinois is a village consisting of approximately 14,000 residents. Home to the Wauconda Bog Nature Preserve as well as a National Natural Landmark, its history spans back to the 1830s.
As far as water conditioning services in Wauconda go, Johnson Water Conditioning Company reigns supreme. Since our establishment in 1936, our company has helped countless home and business owners throughout the Wauconda area. Utilize our services by contacting us today!
Water Softening in Wauconda
In Wauconda, hard water is a fact of life. Calcium and magnesium inundate this area's soil, causing its water to become hard. As a result, Wauconda water struggles to produce soap suds, creates mineral buildup on water pipes, and wreaks havoc on skin and hair.
Fortunately, it's easy to remove calcium and magnesium from water. All you need is a water softener. Johnson has installed water softeners in countless homes throughout Wauconda and its surrounding areas. Regardless of the size of your water supply, we can accommodate you.
Hot Water Softening
Those who use commercial dishwashers on a regular basis are especially vulnerable to hard water. Hard water not only negatively affects the level of cleanliness that these dishwashers can deliver, but it also places undue wear and tear upon these dishwashers.
The good thing is that you don't have to run hard water through your commercial dishwasher. With the use of a hot water softener, you can do away with it completely.
Hot water softeners are specifically designed to be used in tandem with commercial dishwashers. If you're looking for a hot water softener in Wauconda, we here at Johnson have you covered.
Reverse Osmosis
If you're interested in having a continuous stream of high-quality drinking water right from your faucet, you should think about installing a reverse osmosis system. These systems are designed to remove almost all of the contaminants from water, making it as smooth and as drinkable as possible.
If you're looking for a reverse osmosis system in Wauconda, Illinois, the water purification specialists with Johnson are the people to see.
Chemical Injection
Getting your water from a well has its merits. However, well water has its flaws as well, some of which are not found in city water. Namely, well water is typically filled with iron, manganese, sulfur, and coliform bacteria—four contaminants that cause poor smells, unpleasant tastes, and annoying staining capabilities.
Fortunately, you can remove these contaminants from your water with just one water conditioning system: the chemical injection system. Johnson sells two types of chemical injection systems: hydrogen peroxide injection systems and chlorine injection systems. Contact us now to discuss the characteristics of each system.
Iron Filtration
If you're only looking to remove iron and manganese from your water, you can do so with an iron filtration system. A non-chemical system, it filters these contaminants out as they pass through it, ridding water of poor smells, foul tastes, and staining capabilities.
If you're looking for an iron filtration system in Wauconda, we at Johnson Water Conditioning are the people to see. Utilize our services by contacting us today!
Use Professional Water Softening Company in the Wauconda Area
Whether you're looking to install, repair, or maintain a water softener, a reverse osmosis system, or some other type of water purification system, Johnson Water Conditioning is the company to call. We have been serving the Wauconda area for years and would be glad to serve you.
Our team is well-versed in all things water conditioners and offers top-notch service. Contact us today at (630) 832-9393 to utilize our services!