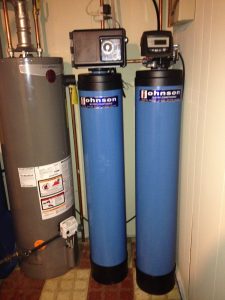 Katie Martinec
6 months ago
The Service Team at Johnson Water Conditioning is wonderful! The water in my home was becoming unbearable, and this was certainly not my area of expertise. They were knowledgeable, friendly, and most importantly flexible when working with my crazy schedule. The install was much faster than I expected, and he took the time to explained the long term maintenance to ensure that I will have the same great results down the road.
Johnson water was recommended by a friend. They we able to respond almost immediately and resolve my problem. They get my highest recommendation. Thank You! Rich
Candy Langmaier
Our experience with Johnson Water Conditioning was that of a five star company. They were exceptionally responsive in analyzing and solving a severe water quality issue with our well water. Within 48 hours our new conditioning system was installed, operational and with excellent water quality results. We have used other water conditioning companies and none could compare to Johnson Water Conditioning in Barrington. We highly recommend this professional
Linda P.
Lake Zurich, Illinois
10/31/2013
5 STARS
I had my water softener installed about 2 months ago and am very pleased with the results.  Austin, your installer, did a great job in explaining how the unit works and then he cleaned up the entire area and removed the old unit.  I would definitely recommend your company. Johnson Water Conditioning is affordable, efficient and customer friendly.
Doug M
Wheaton, Illinois
5 STARS
If you are looking for a water conditioning company that has great service technicians, and a staff that makes you feel as though you are the most important customer that they have, then Johnson Water Company is your place to call.  You can count on service that can be trusted and they will back up their system evaluations and their work.  Great company!!  Would recommend them to anyone who would ask!
Paul D
Lafox, Illinois
1/18/2013
5 STARS
I bought a water softener and water purifier system for Johnson Water in November 2012 and their service was great! They have called to follow up on the instillation to make sure everything was working properly. I would recommend them to anyone looking for a water filter system or softener.
Jake E
Lisle, Illinois
12/18/2012
4 STARS
Really nice guys and would recommend them.  They came out and fixed my hard water, can't be happier.
Lori L
Channahan, Illinois
12/18/2012
5 STARS
Johnson Water Conditioning has helped me with all of my water issues. When I moved into my home the water was terrible looking and smelling. I called Johnson and they were so friendly and knowledgeable. They came to my home and gave me a free estimate. I was so pleased with the quick turnaround time and the professional installation. Now I have perfect water and I am very happy with their products and services. I have already started recommending them to my friends and family!
Kopeck, S
Chicago, Illinois
10/19/2012
5 STARS
It is rare indeed that a perfect review is based on work that a company did not do!  Al, a commissioned salesman, called the village of Northbrook, IL, and Al told me  "your village manager said that there would be no benefit to installing a water purification system in your home. The water is safe, and the unpleasant smell from the faucet is temporary and is not something ANY system can fix.  Inexpensive bottled water will carry you over until the water loses the smell."  Al could have sold me an expensive (thousands of dollars) water system that would not work.  I trust Al and will use him next time when his company can help me.
John S.
5/2/2011
West Chicago, Illinois
5 STARS
The moment Al, from Johnson Water Conditioning, walked through my front door I knew that he was a true professional. He tested my water, surveyed my plumbing and recommended a system to solve my problems without breaking the bank. When I inquired about a more
expensive system, Al told me it would work but a less complicated and less expensive system would work just as well. Our system has been in for over six months and is performing flawlessly. A job well done!!!
Betti  V
Moorseville, N.C.
4/11/2011
5 STARS
Wow awesome people to deal with, I moved out of state and took my RO and water softener with me. They helped with all my questions and now I order my parts and filters through them and they ship it with no hassles. If I ever need to upgrade or replace I will order from them as well even out of state! Thank you
Dianna L.
Addison, Illinois
8/10/2010
5 STARS
GREAT PLACE! I believe the gentleman Eric came out and did an exam on my water for free and told me I just needed to update my water heater piece, no filter required. HE COULD have lied to me and sold me expensive equipment, but didn't. This place is mom and pop and very honest and I was referred by good friends. I highly recommend!
Jerry K.
St. Charles
2/06/2015
5 STARS
We have been so pleased with Johnson Water
Conditioning ! They arrived at the time promised and completed the work in a most professional way.
We have worked with many plumbing companies and Johnson Water has been by far the best!
We had our water softener repaired when other companies wanted to just replace it for a lot of money.. We are fortunate to have found Johnson Water !
I cannot recommend them highly enough!
Good honest business..hooray!
Stacey E.
St. Charles, Illinois
9/01/2014
5 STARS
When we moved into our house 4 years ago the water was a complete mess "other contractors" suggested outrageous and expensive solutions to the problem. Greg and his team came in and were honest and reasonable and quick to fix the problem and turn our rusty water to crystal clear. Wonderful customer service .. family owned business .. would recommend them over and over!
The Elders Family
James T.
Wayne, Illinois
5/30/2013
5 STARS
They are quick to respond when help is needed and they are very pleasant to deal with. We could not be happier with the quality and the cost of our water treatment.
Mike V
Barltett, Illinois
5/20/2013
4 STARS
Very professional service team.  Quickly identified the issue and recommended various options for my tank replacement including new and refurbished equipment.  The install was fast and smooth and the technician did a great job of setting the tank back further than my old tank was, thus giving me some extra space in the area.
As for the unit itself, the water seems much improved (glasses from the dishwasher are no longer "cloudy") and the salt use is greatly reduced.
I had them come out for a potential repair and since the unit had to be replaced and I did it though Johnson, there was no charge for the initial service call.  I felt respected and fairly treated and am happy with the new conditioner.  What more could I ask for?
Nehil M.
12/9/2013
5 STARS
I was in Streamwood trying to get a softener and RO system installed for my family member. A rep first came out to do a thorough check of the water quality and plumbing lines. They weren't pushy at all and were very honest about making sure I only get what I actually need.
We ended up getting both a softener and RO system and were setup pretty quickly. I was very happy with the installation process and the results. The family actually drinks the water now rather than loading up on bottled water.
Highly recommend them over any other big names out there. I checked with home depot and was quoted $5000 for just the softener!
Lisa W.
Wheaton, Illinois
7/14/2014
5 STARS
I have been using their equipment for 3 years, since I moved into my current house.  I own part of the system and rent the other part.  They have excellent customer service and have always been very prompt in fixing any issues that I have.
Last week I had them out to check my system, and they came out right away to look at it.  Then they were able to come out quickly to replace the parts that needed replaced.  They were prompt in their arrival, they cleaned up before they left, and they were very polite.  I really appreciate their service and their ability to work with my schedule.
Pete B.
Big Rock, Illinois
2/14/2015
5 STARS
This family owned business is a true pleasure to deal with. When I called, the owner Greg answered the phone. We had a long discussion regarding My water problems. I had hard rusty water. He suggested what turned out to be the perfect solution. A self cleaning iron filter followed by a on demand water softener.
I have had this system for over a year with no problems. We also use much less salt
with this new system. As for the Installer sent out. I have not met a more courteous, clean working, knowledgeable young plumber in my life.
I whole heartedly recommend Johnson Water Conditioning if you have any water quality issues.
Phil M.
St. Charles, Illinois
2/14/2015
5 STARS
The knowledge and the customer service of Johnson water is the best of quality and pride of a family owned Business is great when you call the company and the owner answers the phone I've had Johnson water for over 10 years and I will never change to another company because of their customer service is always great to work with.
Doug M.
Wheaton, Illinois
9/15/2014
5 STARS
If you are looking for a rental program or any other water conditioning needs, you must call Johnson water conditioning.  We referred Johnson Water conditioning to my Mother and they took care of all of her needs.  The rental program and service is second to none.  And, I no longer have to worry about Mom with water and filter issues.
Good to go!  Thanks guys!
Sue N.
Batavia
12/26/2014
5 STARS
I had the pleasure of dealing with Johnson Water Conditioning and it was remarkable to see such excellent customer service from the start.  I has severe issues with bad smells, horrible tasting water and discoloration.  Lucky for me – I called the right place – Johnson Water!  Jason came out and accessed the problem and got me on the right track. I had new equipment installed within the week by another wonderful employee – Norm.
I cannot tell you how pleased I was at the way I was treated!
Thank you – Johnson Water Conditioning!
Kyle D.
Algonquin, Illinois
8/6/2013
5 STARS
I have had the pleasure of a RO purifying system and water softening equipment with this company for 25 years. This company has always provided me with the newest technology in systems and the friendliest service. Their prompt response to any of my plumbing concerns and knowledgeable service helps ensure that I will continue to be a loyal customer and recommend them to any business or household. Thanks for your years of service!