Reverse Osmosis Issues You Might Encounter in St Charles
While reverse osmosis systems are terrific for providing their users with a continuous stream of pure, uncontaminated water, they do occasionally encounter problems. These systems require some routine maintenance and upkeep.
Curious as to what types of problems a reverse osmosis system might encounter? Here are a few of the most common reverse osmosis issues in St. Charles, Illinois.
1. Poor-tasting Water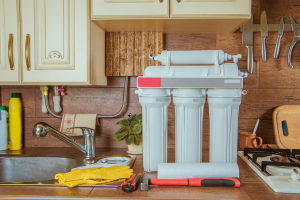 When operating optimally, reverse osmosis systems produce water that is pure, smooth, and drinkable. You'll often know when you're drinking reverse osmosis water; it has a remarkably pure taste.
Unfortunately, every now and then, something will happen to your reverse osmosis system that can cause your water to taste a little "off". In most cases, it will possess the taste most associated with tap water.
Generally, the reason this happens is because the reverse osmosis system membrane is deteriorated in some way. A broken-down membrane will prevent the reverse osmosis system from operating as it's intended to, resulting in poor-tasting water.
If you've encountered this problem, you're going to want to have your reverse osmosis membrane swapped out for a new one.
2. Low Air Pressure
A very common reverse osmosis system problem is low air pressure. These systems utilize air bladders to distribute water consistently. If these air bladders are not being filled to the proper extent, water will not be distributed as needed.
Typically, when a reverse osmosis system has low air pressure, it's because its bladder has become punctured. Air is leaking out of the bladder on a consistent basis.
If this is the case, you'll need to have your air bladder replaced. A reputable water conditioning company can get the job done for you.
3. Loud Faucets
When water comes out of a reverse osmosis faucet, it should do so fairly quitely. There certainly shouldn't be a loud sound accompanying it. Unfortunately, occasions arise when reverse osmosis faucets produce loud noises.
In some cases, faucet noises are a natural part of the reverse osmosis system's breaking-in process. In other cases, faucet noises arise due to tubes being bent.
If your system is new, we recommend waiting a few days for the noise to go away. If it doesn't go away, you'll want to bring in a repair technician to fix it. If you've had your system for a while, and it begins to make noises, calling a repair technician is a wise choice.
4. Water That Won't Stop Running
One last problem that reverse osmosis systems can face is water that won't stop running. Generally, this occurs due to a valve being broken or compromised in some way.
The reason this is a problem is that it wastes water throughout the day. Clean water that has already been put through the reverse osmosis process is being wasted, never to be used. In essence, money is being lost.
If you've encountered this problem, you'll generally need a reverse osmosis repair specialist to examine your system. He or she will fix the valve, and get your system back on the right track.
In Need of Reverse Osmosis System Repair in St. Charles, Illinois?
Has your reverse osmosis system encountered any of the problems reviewed above? Is it suffering from another issue? If so, it's highly recommended that you utilize professional reverse osmosis system repair services.
Looking for reverse osmosis system repair in St. Charles, Illinois? Johnson Water Conditioning has you covered. In business for over 80 years, we are the premier provider of water conditioning services in the St. Charles area.
Contact us now to schedule an appointment!