Water Purification and Water Softening in Wauconda, Illinois: Understanding the Reverse Osmosis System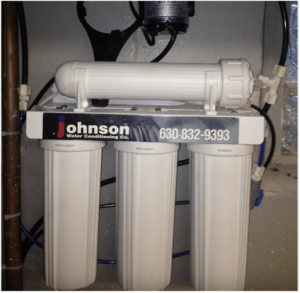 The water purification options in Wauconda vary from water softening systems, to chemical injection systems, to iron filtration systems, and more. However, if you want to get the purest water possible, you'll want to make use of a reverse osmosis system.
These systems remove almost all of the contaminants from their respective water supplies, leaving it extremely clean and drinkable. Are you interested in learning more? We're going to discuss everything you'll need to know.
How Does the Reverse Osmosis System Operate?
The reverse osmosis system operates by sending water through several different levels of filtration. Each level is responsible for a different type of filtration, with the membrane level doing the bulk of the work. We'll discuss the specifics of each level below.
Pre-Filtering Stage
The system's pre-filters are responsible for removing sand, dirt, and other forms of sediment. If the contaminant is large enough, it will be filtered out by one of several pre-filters.
Semipermeable Membrane Stage
Once the water has been cleaned by the pre-filters, it will be sent to the semipermeable membrane. This is the workhorse of the reverse osmosis system. It removes essentially every contaminant there is — from chemicals, to minerals, to bacteria, and more. Some of the contaminants removed by the semipermeable membrane include arsenic, lead, and E. coli bacteria.
Post-Filtering Stage
After the water leaves the semipermeable membrane, it heads to the post-filters. These filters act as polishers, removing any contaminants that might still be left in the water. They're not 100% perfect, but they are close. Once they're finished filtering the water, it is ready for consumption.
Important Things to Know About the Reverse Osmosis System
If you're considering installing a reverse osmosis system, there are a few things you should know first. They include the following:
Reverse Osmosis Systems Require Some Maintenance
First and foremost, there is some maintenance associated with reverse osmosis systems. Namely, their filters have to be changed from time to time. Whereas some of these filters need to be changed every six months or so, others need to be changed every year or two.
Yearly cleaning is important as well. It's recommended that you run a disinfectant through the system to ensure that mold and bacteria aren't able to accumulate.
Reverse Osmosis Systems Take Up Very Little Space
Afraid that you don't have room for a reverse osmosis system? Don't worry, because you most likely do have space for it. These systems are rather small, capable of fitting underneath sinks and inside of cabinets. As such, they can be installed in some fairly tight areas.
Reverse Osmosis Systems Are Designed for Drinking Water Only
Reverse osmosis systems aren't efficient enough to purify an entire home's water supply. Instead, they're designed only for drinking water purposes. If you want to purify all of the water in your home, you'll need to make use of other systems.
Reverse Osmosis Systems Can Remove Some Beneficial Minerals
Reverse osmosis systems will remove all of the bad contaminants from your water. However, with that being said, they also eliminate the good minerals as well. These include beneficial minerals like iron, calcium, and magnesium, to name just a few.
Utilize Water Purification Services in Wauconda, Illinois
Are you interested in installing a reverse osmosis system in your home? Looking for a water purification company in Wauconda, Illinois? If so, we here at Johnson Water Conditioning are the people to see.
We've installed reverse osmosis systems in countless homes throughout the Wauconda area. Regardless of your water supply's size, we can help you find the right system. Contact us today to get started!