Using a Pentair Water Softener to Eliminate Limescale: Insights from a Pentair Water Softening Company in Addison, Illinois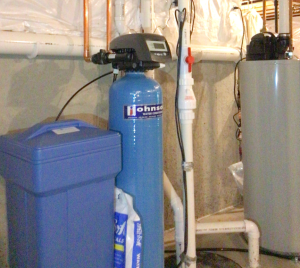 Water softeners provide a variety of benefits for homeowners throughout the Addison, Illinois area. One of their primary benefits is the ability to eliminate limescale buildup.
You might be asking: how do water softeners eliminate limescale, and why is it important in the first place? To help give you a better understanding, this Pentair water softening company in Addison, Illinois is going to review some of the key facts you should know below.
What Is Limescale?
First, let's discuss what limescale actually is. Limescale is a white, powdery substance that shows up on metal, water-based fixtures. For instance, you might see it on shower heads or faucets.
At its core, this white powder is a small collection of magnesium and calcium particles. These particles are left behind after hard water evaporates. Hard water is hard, after all, due to the calcium and magnesium that exist within it.
If the water were soft, there would be no limescale left behind. In fact, the water would have no visual effect on the entities that it touches.
Limescale is not a dangerous substance, nor does it impair the functionality of the items with which it makes contact. However, it is an aesthetic blight, which is why most homeowners choose to remove it by working with their local Pentair water softening company in Addison, Illinois.
How Does a Pentair Water Softener Handle Limescale Buildup?
Now that you know what limescale is, you're probably wondering: how does a Pentair water softener do away with it? As was noted above, soft water has no ability to leave limescale behind, as it doesn't contain calcium or magnesium.
Then, how does the water softener rid water of calcium and magnesium? It all comes down to a scientific process known as ion exchange. This is when a positively charged ion is exchanged for a negatively charged ion.
In the case of the water softener, it's about exchanging sodium ions for calcium and magnesium ions. The sodium ions are loaded onto resin beads within the water softener. Then, when magnesium and calcium ions pass through, these sodium ions leave the beads, creating room for the magnesium and calcium ions to cling instead.
Once the water has left the water softener, it contains trace amounts of sodium and no amounts of calcium or magnesium. In other words, it's soft. Note that the trace amounts of sodium have a negligible effect on the water's taste, consistency, and functionality. In other words, they have no real effect at all.
For a water softener to run consistently, your Pentair water softening company in Addison, Illinois will advise you to replenish the sodium ions within it on a regular basis. You do this by adding softener salt every one to two months. Perform regular maintenance on the system in addition, and you shouldn't see limescale on your sinks, shower heads, or faucets ever again.
What Else Can a Pentair Water Softener Do?
A Pentair water softener offers a number of other benefits as well. For instance, it keeps mineral buildup from plaguing the insides of water pipes. This preserves the pipes and allows them to last longer.
In addition, it protects the skin and hair from dryness and assorted medical conditions. These conditions include acne, eczema, and split ends.
Finally, it produces more soap suds. This is because it removes calcium and magnesium from the water, and therefore allows for the full chemical reaction between soap and water.
Looking for the Premier Pentair Water Softening Company in Addison, Illinois?
Are you ready to eliminate limescale from your home once and for all? If so, and if you're looking for the best Pentair water softening company in Addison, Illinois, do not hesitate to reach out to the team at Johnson Water Conditioning.
Our technicians have installed Pentair water softeners in countless properties throughout Addison and its surrounding suburbs. Contact us today to request a free consultation.