Should You Install a Reverse Osmosis System? A Bensenville Water Softening and Water Purification Company Weighs In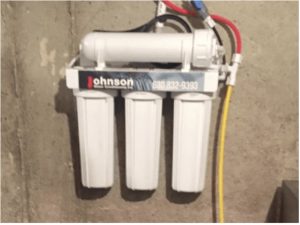 There are all kinds of water purification systems out there — from the water softener, to the chemical injection system, to the iron filtration system, and more. However, when it comes to obtaining the cleanest drinking water possible, no purification system outperforms the reverse osmosis system.
This system removes almost all of the contaminants from water, making it completely pure and drinkable. Are you interested in learning more about it? Then read below. This Bensenville water purification company has you covered.
How Can a Reverse Osmosis System Benefit You?
Reverse osmosis systems provide a number of benefits that you can't get with other water conditioning systems. They remove essentially all of the impurities from their corresponding water supplies, leaving the water extremely pure.
Reverse osmosis water is on par with bottled water. In fact, bottled water has typically been put through the reverse osmosis process itself. As such, by installing a reverse osmosis system in your home, you are essentially implementing a continuous stream of bottled water-quality water.
It's important to note here that reverse osmosis water isn't just great for drinking. It's great for cooking as well. Because it contains only trace amounts of minerals and chemicals, it has almost no effect on the food dishes in which it's used. This isn't necessarily true of other types of water, which can contain excess amounts of chemicals and minerals, and which can greatly alter the quality and consistency of a food dish.
Can a Reverse Osmosis System Be Used in Lieu of Other Water Purification Systems?
We mentioned that the reverse osmosis system removes almost all of the substances from a water supply. Does this mean that it can be used in lieu of other water purification systems (like water softeners or iron filtration systems)?
Unfortunately, it can't. Reverse osmosis systems aren't as efficient as other conditioning systems. While they're efficient enough to accommodate drinking water purposes, they're not efficient enough to accommodate cleaning purposes, showering purposes, etc.
If you want to purify the rest of your water supply, you'll need to install a water softener — and maybe even an iron filtration system or chemical injection system. These systems can't remove all of the substances from a water supply, but they can remove the most harmful ones.
Do Reverse Osmosis Systems Take Up a Lot of Space?
You might be concerned about space limitations in your home. Will a reverse osmosis system take up a lot of space? No!
Reverse osmosis systems are quite small, and they can generally be installed underneath kitchen sinks. Regardless of your home's size, you should have enough room for a reverse osmosis system to fit.
Are There Any Downsides to Reverse Osmosis Systems?
For the most part, there aren't any downsides to installing a reverse osmosis system. It's recommended that you perform maintenance on them from time to time, but this is nothing more than a filter change every six months to a year.
There has been some criticism of the fact that reverse osmosis systems remove beneficial minerals from water. While that's true, those minerals (like iron, manganese, and calcium) can easily be found in other foods. At the end of the day, your diet is not going to be negatively impacted.
Looking for a Bensenville Water Softening and Water Purification Company?
Are you interested in installing a reverse osmosis system? Looking to benefit from the services of a Bensenville water purification company? If so, Johnson Water Conditioning is the company to call.
We've installed reverse osmosis systems in countless homes throughout the Bensenville area. Regardless of the size of your water supply, we're sure to have a reverse osmosis system that can accommodate you.
Contact us today to discuss your needs!