Water Conditioning and Water Softening in Aurora, IL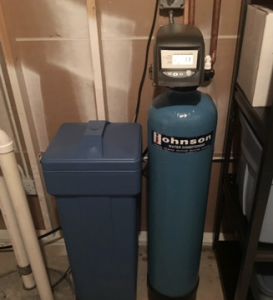 One of Chicago's biggest suburbs, Aurora, Illinois has a population of approximately 200,000. Positioned along the Fox River, it's known for its Paramount Theater, its Hollywood Casino, and its Leland Tower.
As far as water softening and water conditioning in Aurora go, Johnson Water Conditioning is the top company in the area. Serving Aurora since 1936, Johnson offers installation, maintenance, and repair services. Contact us today to get started!
Water Softening
While Aurora water is very high quality, it does have one major flaw: it's hard. It is filled with calcium and magnesium, two minerals that greatly affect its overall functionality. The good thing, however, is that you don't have to stand for these minerals. You can eliminate with them with the use of a water softener.
If you're looking for a water softener in Aurora, Johnson Water Conditioning is the company to call. Serving the Aurora area for over 80 years, we have installed our water softeners in countless residences throughout the area.
Hot Water Softening
One of the key components to running a restaurant is washing dishes. As such, for restaurant owners, commercial dishwashers are necessities. Unfortunately, commercial dishwashers are prone to limescale buildup. Unless, of course, you use them in tandem with hot water softeners.
Johnson has installed a number of hot water softeners in restaurants throughout Aurora. If you want your commercial dishwasher run as efficiently as possible, we are the people to see. Contact us today!
Reverse Osmosis
The fact of the matter is that groundwater is filled with a variety of minerals, chemicals, and bacteria. While most of these contaminants are safe to consume, they do tend to have a negative effect on the quality of the water where they exist. This is why the reverse osmosis system was made—to remove the many contaminants that exist within water supplies.
If you're looking for a reverse osmosis system in the Aurora area, we here at Johnson Water Conditioning can help. Our systems offer only the best in reverse osmosis, removing the vast majority of contaminants that exist within a given water supply. If you're looking for a continuous stream of high-quality drinking water, we can accommodate you.
Chemical Injection
Those who get their water from a well face a number of potential problems that aren't common in city water. The most common of these problems are the problems of iron, manganese, sulfur, and bacteria. These contaminants not only affect the taste and smell of the water in which they're contained, but they also cause water staining.
Fortunately, you can remove these contaminants from your water supply with one conditioning system: a chemical injection system. Johnson manufactures two types of chemical injection systems, which are the chlorine injection system and the hydrogen peroxide injection system. Contact us today to discuss the specifics of each!
Iron Filtration
If you're looking for a non-chemical method of removing iron and manganese from your water supply, you should opt for the iron filtration system. Johnson manufactures iron filtration systems to accommodate a wide range of water supplies. Regardless of the size of your supply, we have an iron filtration system for you.
Utilize Water Conditioning or Water Softening in Aurora
If you're ever in need of water conditioning or water softening in Aurora, Illinois, we here at Johnson Water Conditioning are the people to see. In business for over 80 years, we've helped thousands upon thousands of Aurora residents with the installation, maintenance, and repair of their water conditioning systems.
Regardless of your needs, our team can accommodate you. To make use of our services, contact us at (630) 832-9393!