Crystal Lake, IL Water Conditioning and Water Softening Services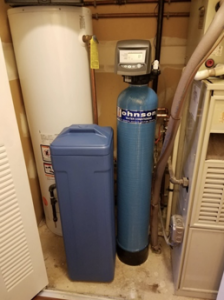 Named after its illustrious lake, Crystal Lake, Illinois is a city of 40,000 residents and is located approximately 45 miles northwest of Chicago. Characterized by a vast collection of parks as well as an inviting downtown area, it dates back to the early 19th century.
As far as water conditioning services in the Crystal Lake go, Johnson Water Conditioning is the top choice. Serving the area since 1936, we offer only the best in installation, maintenance, and repair.
Water Softeners in Crystal Lake
Whether we like it or not, the water in Crystal Lake is some of the hardest water in the United States. Filled with calcium and magnesium, it is known to wreak havoc on pipes, leave a mess of our metal water appliances, and do a poor job or producing soap suds. For this reason, many Crystal Lake residents opt for water softeners.
If you're looking for a water softener in Crystal Lake, the purification specialists with Johnson are the people to see. We manufacture water softeners for water supplies of all sizes, helping countless Crystal Lake residents to optimize the quality of their water.
Hot Water Softeners in Crystal Lake
If you own or operate a restaurant, you likely make use of a commercial dishwasher on a daily basis. If you want to optimize the efficiency of this dishwasher, it's important that you eliminate calcium and magnesium from the restaurant's water supply. Fortunately, this can be easily done with the use of a hot water softener.
Hot water softeners remove calcium and magnesium, which improves mechanical efficiency and reduces limescale buildup. If used on a consistent basis, they can greatly improve the lifespan of a commercial dishwasher.
If you require a hot water softener in Crystal Lake, we here at Johnson Water Conditioning can help. Contact us today to discuss your needs!
Reverse Osmosis Systems in Crystal Lake
It's not just calcium and magnesium that are contained in water, but a variety of other minerals, chemicals, and bacteria as well. While most of these contaminants are safe for consumption, unfortunately, they reduce the quality of the water in which they're contained.
However, you can remove the majority of these contaminants with a single purification system: the reverse osmosis system. Johnson has installed reverse osmosis systems in a wide range of homes throughout Crystal Lake. Our team would be more than happy to do the same in your home.
Chemical Injection Systems in Crystal Lake
Water wells are perfectly suitable as residential water supplies. However, the owners of water wells sometimes encounter problems that others do not. In particular, they encounter iron, manganese, sulfur, and coliform bacteria. As you may know, these are substances that can drastically affect the quality and functionality of water.
Fortunately, there is a way to rid well water of these substances: by installing a chemical injection system. Johnson has supplied chemical injection systems to a variety of Crystal Lake residents. Whether you're looking to install a chlorine injection system or hydrogen peroxide injection system, we have you covered.
Iron Filtration Systems in Crystal Lake
Another way to remove iron and manganese from well water is with an iron filtration system. These non-chemical systems filter out unwanted minerals as they pass through, freeing well water of its poor smells, foul tastes, and staining capabilities.
Johnson has installed iron filtration systems in a great number of Crystal Lake homes and businesses. If it's an iron filtration system you seek, we're the people to call.
Make Use of Johnson's Crystal Lake Water Softening Services
Should you ever require a water softening or water conditioning company in Crystal Lake, Illinois, Johnson Water Conditioning has you covered. With a team of skilled and dedicated purification experts, we've served countless customers over the years.
Whether you need installation, maintenance, or repair, we're here to help you. Utilize our services by contacting us at (630) 832-9393!