Medinah, IL Water Conditioning and Water Softening Services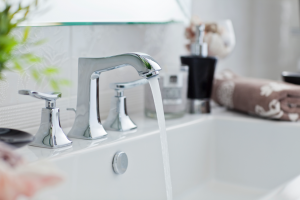 Established in 1833, Medinah, Illinois is a northwest suburb of Chicago. Named after the renowned Medinah Country Club, the town has hosted several major PGA Tour events over the years.
As far as water conditioning services in Medinah go, Johnson Water Conditioning is the company to call. In business since 1936, we've helped thousands upon thousands of Medinah residents to purify their water supplies. Contact us today to get started!
Water Softening
If you live in Medinah, your water is probably filled with an excess of calcium and magnesium. These minerals are known as the "hard water minerals", and together, they work to make your water hard. Fortunately, if you wish, you can remove calcium and magnesium from your water supply. All you need is a water softener.
If you're looking to use a water softener in Medinah, we here at Johnson have you covered. Over the years, our team of dedicated water purification specialist has installed water softeners in countless homes throughout Medinah and its surrounding areas. We are more than capable of installing one in your home as well.
Hot Water Softening
Part of operating a restaurant is making use of a commercial dishwasher. Unfortunately, part of using a commercial dishwasher in Medinah is dealing with limescale buildup. That is, of course, unless you also make use of a hot water softener. Hot water softeners are specifically designed to remove hard water minerals from hot water, making them ideal for use with commercial dishwashers.
Johnson manufactures only the best in hot water softeners. Regardless of the size and model of your commercial dishwasher, our team can accommodate you.
Reverse Osmosis
If you're looking to improve the quality of your drinking water, you should consider installing a reverse osmosis system. These systems utilize a series of filters in order to make water as clean and as drinkable as technologically possible.
We at Johnson manufacture reverse osmosis systems to accommodate a range of different water supplies. Regardless of your drinking water needs, we have a reverse osmosis system for you.
Chemical Injection
Those who get their water from a well often have to deal with water contaminants that others do not have to deal with. Most typically, well water is filled with iron, manganese, and sulfur. The good thing is that it's possible to remove these contaminants from your water—all you need is a chemical injection system.
Johnson manufactures two types of chemical injection systems: chlorine injection systems and hydrogen peroxide injection systems. Each of these injection systems serves the same general purpose, but they work in slightly different ways. Call us today to set up an installation or to inquire about the differences between the two.
Iron Filtration
An alternative way to remove iron, manganese, and sulfur from your well water is with the use of an iron filtration system. These are non-chemical systems that filter out the above-reviewed contaminants. By using an iron filtration system, you'll enjoy not only better smelling water and better tasting water, but water that doesn't stain as well.
If you're looking for an iron filtration system in Medinah, the water purification specialists with Johnson Water Conditioning are the people to see. We manufacture iron filtration systems to accommodate a range of different water supplies. Contact us today.
Take Advantage of Johnson's Medinah Water Conditioning Services
It doesn't matter whether you're in need of installation, maintenance, or repair, if you need water conditioning services in Medinah, Johnson Water Conditioning is the company to call.
Our team of seasoned water purification specialists knows everything there is to know about water conditioners and water softeners, having manufactured and installed them for countless Medinah residents. To utilize our services, contact us today at (630) 832-9393!