Water Softening and Water Conditioning Services in Western Springs, IL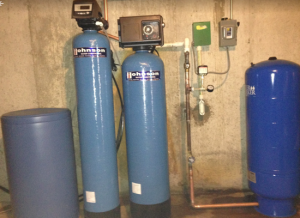 A charming Chicago suburb, Western Springs is home to around 13,000 residents. Characterized by a rich history, a number of parks, and its historic water tower, it's a village that understands the importance of water quality.
When it comes to water softening and water conditioning services in Western Springs, Johnson Water Conditioning Company is the company to call. In business since 1936, Johnson has been serving Western Springs residents for 83 years. Utilize our services by calling us today!
Water Softening in Western Springs
Hard water is a nuisance to say the least. Not only does it cause the skin and hair to feel rigid and dry, but it also leaves unsightly limescale on the surfaces of sinks and water fixtures. For this reason, most Western Springs homeowners choose to soften their water with the use of water softeners.
If you're interested in installing a water softener in Western Springs, Johnson Water Conditioning is the company to call. Not only do we manufacture some of the most effective water softeners on the market today, but we also install them. Our team will have your softener up and running in no time.
Hot Water Softening
It doesn't matter whether you run a cafe or a pizza place, if you use a commercial dishwasher on a regular basis, you would be best served by investing in a hot water softener. Hot water softeners are designed specifically for use with commercial dishwashers, not only ridding them of limescale buildup, but helping them to clean dishes as thoroughly as possible as well.
We at Johnson have installed hot water softeners for a variety of Western Springs establishments. Our team of purifications specialists looks forward to accommodating your hot water softening needs.
Reverse Osmosis Systems
If it's clean, pure drinking water that you seek, look no further than a reverse osmosis system. These systems are designed to remove almost all contaminants from a home's water supply, eliminating chemicals, minerals, and bacteria.
Johnson manufactures and installs reverse osmosis systems of all sizes, accommodating water supplies both small and large. Our team of seasoned and skilled purification specialists would love to supply you with a steady stream of bottled water-quality water.
Chemical Injection Systems
If you get your water from a well rather than the city, you may be forced to deal with a number of problems. Not only is well water susceptible to harmful bacteria, but to foul tastes and unpleasant fragrances as well. Fortunately, you can counteract all of these problems with the use of a chemical injection system.
There are two types of chemical injection systems to choose from: the chlorine injection system and the hydrogen peroxide injection system.
Johnson manufactures both types of systems and installs them regularly in an effort to eliminate iron, manganese, bacteria, and sulfur. In short, if you want to sanitize your well water, we're the people to see.
Iron Filtration
Another effective conditioning system for well water is the iron filtration system. Without the use of chemicals, this system takes water and rids it of all iron, manganese, and hydrogen sulfide.
If you're looking to install an iron filtration system in Western Springs, Johnson has you covered. We can have your system ready for operation in just a short amount of time.
Reap the Benefits of Johnson's Water Softening Services in Western Springs 
Whether you need installation, repair, or maintenance, if you're looking for water softening services in Western Springs, we here at Johnson Water Conditioning are the people to see. In business for over 80 years, we know water conditioning inside and out.
Regardless of the water softening issue you're facing, our team of highly skilled and experienced purification specialists can help you. To schedule an appointment, contact us at (630) 832-9393!