Wheaton, IL Water Conditioning and Water Softening Services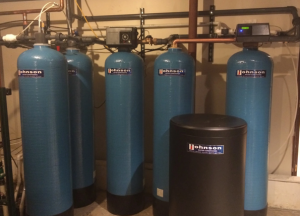 The county seat of DuPage County, Wheaton is home to approximately 55,000 residents. Characterized by a collection of parks and golf courses as well as the prestigious Wheaton College, it's one of the more notable cities in the Chicagoland area.
If you're looking for water conditioning and water softening services in Wheaton, Johnson Water Conditioning Company has you covered. In business since 1936, we've installed, repaired, and maintained purification systems for thousands upon thousands of customers in the area. Contact us to utilize our services today!
Wheaton Water Softening
Here in Wheaton, hard water is a fact of life. For this reason, the vast majority of Wheaton residents choose to utilize water softeners in their homes.
Johnson has installed water softeners for a wide variety of customers throughout the Wheaton area, helping to take strain off of their water appliances, eliminate limescale buildup from their sink surfaces, and optimize their cleaning efforts. Make use of Johnson's water softening services now!
Hot Water Softening in Wheaton
If you own a restaurant, it's safe to assume that you own a commercial dishwasher as well. If so, and if you want your dishwasher to perform to the best of its abilities, you'll need to equip it with a hot water softener. A hot water softener will not only eliminate limescale buildup within the dishwasher, but it will also leave your dishes with a spotless shine.
The purification specialists with Johnson have installed hot water softeners in a variety of restaurants throughout the Wheaton area. If you want your commercial dishwasher to run as efficiently as possible, we're the people to see.
Reverse Osmosis Systems
Reverse osmosis systems are capable of removing the vast majority of contaminants from a water supply, including minerals, bacteria, and chemicals. In doing so, they serve to make water as pure and as drinkable as possible.
If you're interested in installing a reverse osmosis system in Wheaton, we here at Johnson Water Conditioning are the people to see. Our purification experts have installed reverse osmosis systems in countless homes throughout the area, providing homeowners with steady streams of pure, smooth, and uncontaminated drinking water.
Chemical Injection Systems
Municipal water supplies are treated and are typically void of harmful bacteria. Well water supplies, however, are highly vulnerable to harmful bacteria, capable of taking them on at any time. Fortunately, there is a way for well owners to counteract harmful bacteria. They can quite simply install chemical injection systems.
We at Johnson manufacture both chlorine and hydrogen peroxide injection systems, helping our many customers to remove bacteria, iron, manganese, and sulfur from their water supplies. In doing so, we eliminate foul smells, poor tastes, and potential health problems.
Iron Filtration
For those that get their water from a well, an iron filtration system might be necessary. These systems remove iron, manganese, and hydrogen sulfide from water supplies, rendering them safe and functional to drink from and use.
Over the years, Johnson has installed iron filtration systems for a wide variety of water supplies. Regardless of your water softening needs, our purification experts would be happy to assist you.
Take Advantage of Johnson's Water Softening Services in Wheaton
Whether your water softener needs to be repaired or you're looking to install a reverse osmosis system, Johnson Water Conditioning is the company to call. In business for over 80 years, we've installed and serviced countless water softening systems in the Wheaton area.
With a team of highly skilled and educated purification specialists on our side, we're capable of dealing with any and all water softening issues. Utilize our water conditioning services by contacting us at (630) 832-9393!